Guadalajara Grill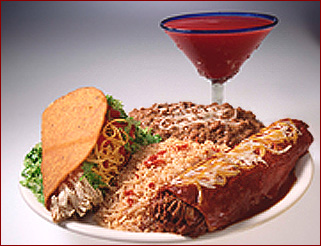 The Guadalajara Grill prepares Mexican, Latin and American fare fresh to order, using only the freshest, highest quality ingredients, and their own legendary secret sauce. Their commitment to "Great food - at a great price," has kept Taos locals and visitors alike returning again and again. It's the place to go, whether you just want to get out of the house to enjoy a delicious lunch or dinner for two, or you are planning a large celebration or reunion.
The staff at Guadalajara Grill is committed to making you feel as comfortable and as at home as possible. They have been known to treat their guests like part of the family! The atmosphere they have created is relaxing and cozy, the kind of place you'd look forward to coming to after a long day at work. Being able to unwind is important, so enjoy a cold Negro Modelo or a delicious Sangria Marguerita, a specialty of Guadalajara Grill, with your meal.
The Guadalajara Grill offers appetizers, meals and deserts all made fresh to order. The menu is made up of the wonderful foods the chefs and staff have all grown up loving, with the style and presentation you should expect from a fine eatery. To check on current specials, please feel free to stop in or give them a call; They are always happy to hear from their customers!
A Menu to Suit Any Appetite

Choose from an extensive menu of American, Latin, and Mexican style dishes, steak, chicken, vegetarian specialties and more. Enjoy succulent shrimp, oysters, white fish or salmon prepared in a variety of ways, including the most famous fish tacos in Taos! Mexican specialties include Chile Rellenos, Chimichangas, Burritos, Enchiladas, Tostadas, and more. Can't decide? How about the Guadalajara Grill's version of surf and turf? Sink your teeth into an 8 oz. ribeye steak with 6 grilled shrimp, Guadalajara style. Carne Asada, Chicken a la Monterrey, and Carnitas are just some of the favorites you will find on the menu. Whatever you choose, you are guaranteed to leave the table satisfied. Breakfast, Kids' and half-order menus are also available.
Guadalajara Grill is always convenient, with two locations to serve you:

822 Paseo del Pueblo Norte - at the north end of town
575-737-0816
Or
1384 Paseo del Puebloe Sur - at the south end of town. (Patio Dining is Availble at this location)
575-751-0063
Have Your Next Gathering at Guadalajara Grill!
Whether you are planning an intimate date, having a family outing, or a group of friends going out for appetizers after work, the Guadalajara Grill guarantees that their dishes will satisfy everyone. Both restaurant locations have a relaxing atmosphere that is simply perfect for any occasion.

Call the Guadalajara Grill today to book a reservation or to find out about their specials. They look forward to hearing from you soon!

A Few Words From the Patrons:
"Yum yum yum!! We ate here a few times while traveling in New Mexico and went to both the Paseo South and North locations. The food was excellent and portions very large. I particularly loved their quesadillas, while my companions also enjoyed very flavorful shrimp dishes, especially ones with the 'secret sauce.' I have to say ... that I recommend going with a more elaborate dish (or a quesadilla!) to let the cooks show their talent!

As for desserts, OMG amazing. Cheesecake was good, but what really stuck out was bunuel - fried dough with cinnamon, sugar, whipped cream ... I don't remember what else but gosh was that good! And under $2!"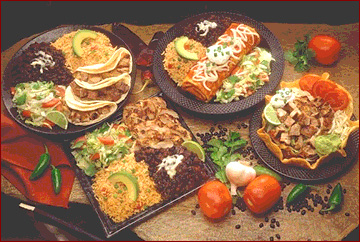 ~ Anne G. - New York, NY

"I had the most delicious fish tacos here while visiting Taos for New Years. I have never had fish tacos so delicious! Fish tacos to me are usually breaded, dry, cabbage, blegh. But, I took the advice of a local friend and ordered them and I am so thankful that I listened! They are garlicy and saucy and simmered meat just OH so good.

We also had some guacamole and salsa which was delicious and I had a nice large wine margarita. The margarita sounded a little odd at first but it was very tasty!"

~ Ashley T. - Austin, TX

The Guadalajara Grill is one of the best places to eat in Taos!
"Seriously good Mexican food. I love their chicken burrito with red chili. Their tacos also rock- all of them. Just tried the chicken tacos the other night, YUM! So does the Quesadilla Azteca. And their chimichangas! But everything on the menu is good, so you can't go wrong!
Huge portions."

~ allegra s. - Taos, NM

"Fantastic cocktail camerones and ceviche. Grab a negro modello and wait for them to bring it to the table. This has the authentic feel of a real taquerilla. The menu selection is vast and the food kicks *ss. 2 location - on each end of town but I prefer the one on the way to the ski area. It's a little more cafeteria like. Although the one on the way to Santa Fe has an outdoor patio."

~ John M. - Parker, CO