CID'S FOOD MARKET & NATURAL LIVING CENTER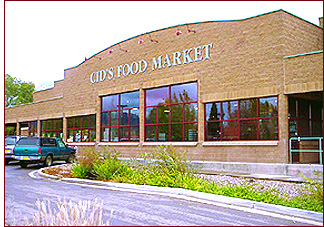 A Tradition of Quality in Taos New Mexico
After more than two decades in business, Cid's Food Market is the only locally owned supermarket in Taos, New Mexico. Owners Cid and Betty Backer first opened Cid's in the building which is now the north side Guadalajara Grill, moving the store to its current location in 1998. They are proud of their tradition of service to the community and their commitment to providing the finest in organic, natural and whole foods, as well as nutritional and body care products to their friends and neighbors in the Taos area.

The market is now under the management of Cid and Betty's son Lee, whose innovative ideas and enthusiasm will continue to expand the original concept behind Cid's Food Market. Lee's innovative and forward-looking ideas are in evidence everywhere at Cid's. He is responsible for the store's computer technology, databases, and web site, as well as being instrumental in making such well received improvements as the addition of an olive bar. The entire family can be proud of winning the 2010 People's Choice Awards for Best Grocery, Best Produce, Best Customer Service and Best Green Business!

The owners, management and staff at Cid's are committed to bringing their customers only the finest quality organic, natural, additive and hormone free and non-gmo foods available. Cid's Food Market has the largest selection of organic and gourmet foods in Taos, New Mexico. They offer as much local produce, meats and poultry as possible. They also offer nutritional and body care products and health information in a fun, comfortable, clean, and safe environment. For an example of their enthusiasm, just visit Cid's during their annual anniversary celebration, where you'll find many of your Taos neighbors enjoying delicious prepared foods, special sales and lots of samples. In addition, if they don't stock it, they will happily special order your favorite gourmet and natural products, and pass a 10% case discount on to you!





Natural, Whole and Organic Foods For Your Healthy Lifestyle
Cid's Food Market promotes sustainable agriculture through their commitment to provide organically and biodynamically grown foods from local farmers whenever possible. The folks at Cid's are also committed to reducing waste of non-renewable resources through recycling and reusable and reduced packaging. You have probably seen the handy, reusable bags they make available all over town.

And customer service is not a forgotten art at Cid's! It's alive and well...and an everyday occurrence. Whether you need help with finding a product, special ordering or simply in need of some information, the management and staff at Cid's is there with a smile to help.

For your convenience, you will find a bi-weekly circular of Cid's Food Market specials on their website.

Store Hours:
Cid's Food Market is open 8am to 8pm Monday through Saturday. Closed Sundays.



CID'S FOOD MARKET
Whole Foods and Natural Living Market
623 Paseo Del Pueblo Norte
Taos, NM 87571
(575) 758-1148


Visit Cid's Food Market Website